Learning Experiences
We designed the program to provide students with a variety of learning experiences:
Mentorship
Guided Practice
Real World Opportunities
These 3 learning experiences provide the contexts in which students begin to work on the core skills of:
Self-Knowledge
Plan and Act (Making a Plan and Making it Happen)
Experience Outcomes/Learn and Adjust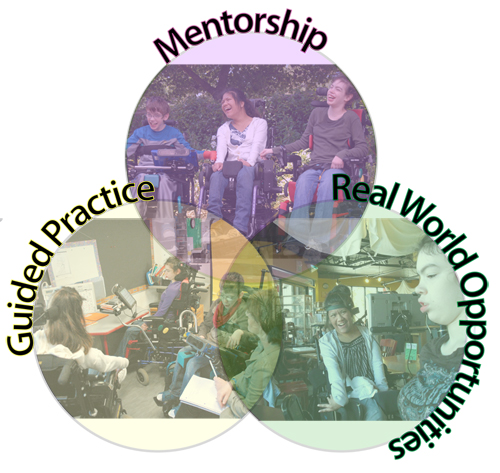 The Mentorship activities involve students first selecting a familiar individual to act as their mentor. The student and mentor work together during the beginning guided activities that focus on building self-knowledge, including self-awareness, self-evaluation and self-regulation. Our students selected and invited a familiar person to be their mentor as they went through these early lessons. We then enlisted the participation of an additional mentor, who uses AAC to communicate. This individual worked together with both students as they focused on the skills of goal-setting, planning, acting on their plan and then making adjustments to their plan as needed.
The Guided Practice activities address specific skills in each of the core areas. Students participate in these activities with their AAC and Assistive Technology (AT) tools. All of the activities are adapted for the student with complex communication needs to promote independent access to the materials.
Real World Opportunities provide instruction to students in the community and allow students to put their plans into action with the mentor available to offer support, guidance and encouragement. Students need opportunities to build and apply skills, based on their own interests and personal goals, in real world environments.