Mentorship
Mentors and their mentees participate in weekly self-determination lessons and activities. They collaborate to set up routines as a group to promote a community of equality and respect. They create a community of learners where everyone is committed to becoming more self-determined, including the mentors, teachers and other professionals who are members of the group.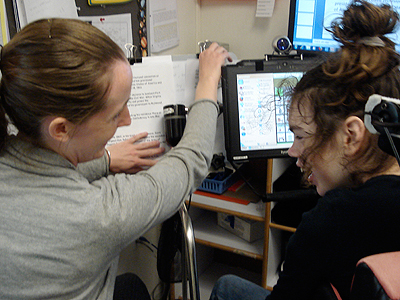 A mentor is a more skilled and experienced person who acts as a role model and guide to a less experienced person.
Mentorship is a partnership where one person shares knowledge, skills, experiences and perspectives with another person.
Mentoring helps individuals to deepen self-knowledge and attain personal goals by providing on-going guidance, encouragement and problem-solving strategies.
Mentoring is a brain to pick, an ear to listen and a push in the right direction.

— John Crosby
Traditional mentorship involves pairing a more-experienced person with a less-experienced person. Successful partnerships can also be created through peer mentorship. Peer mentoring can pair:
Similarly-aged students together
Older students with younger students
Students with disabilities with students who do not have disabilities

Such as, e-Buddies: an e-mail pen-pal program that pairs a person with a developmental disability in a one-to-one e-mail friendship with a peer volunteer who does not have a disability

Students who share a similar physical disability (Roberts, 2007)
Individuals of similar age who have different types of disabilities

Such as, Do-It E-Mentoring Community: a program at the University of Washington in which participants are mentored in a groups via email exchanges and support from near-peer mentors and adult mentors who also have a disability