Mentor Training and Support
Training and Ongoing Support
Training and support is provided to mentors in a variety of ways:
Mentors are directed to specific online resources where they learn independently about mentorship and self-determination.
Mentors complete the Self-Determination Mentorship questionnaire to provide their perspectives on what it means to be a self-determined individual based their own personal experiences.
Self-Determination Program staff discuss basic goals of the program and their role as mentors in the program.
Mentors and mentees meet informally and begin the relationship-building process.
Self-Determination Program staff and mentors plan and prepare activities for mentees in the areas of self-knowledge, decision-making, goal-setting and formulating a plan to achieve their goals.
Prior to each Self-Determination activity with mentees, mentors practice implementing the lesson and learn how to incorporate interaction strategies with guidance from the program staff.
During activities, program staff film sessions for subsequent review and de-briefing. Program staff and mentors discuss:

successes and challenges of the lesson
effective interaction strategies (see Tips and Techniques)
ways to adjust activity and future activities to build self-determination skills
the objective(s) of the lesson and the degree to which it was met
Mentor Objectives
Mentors are highly competent AAC users and have experiences that are similar to those of the students they will be mentoring. They have expressed a strong desire and commitment to building and strengthening their skills as Mentors and to serving as role models for younger students using AAC as those students develop self-determination skills. The program staff provide guidance to mentors as they work towards these objectives.
Building the Relationship
Mentors and their mentees participate in weekly self-determination lessons and activities. They collaborate to set up routines as a group to promote a community of equality and respect. They create a community of learners where everyone is committed to becoming more self-determined, including the mentors, teachers, and other professionals who are members of the group.
Tips and Techniques
Mentor training and support includes working with the mentors to build upon their skills in the use of AAC strategies. As mentors further develop these skills, more complex strategies are modeled and introduced. Mentors are encouraged to use these strategies during the self-determination activities.
Observe the mentees carefully, engage, listen and provide feedback.
Observe the mentees during the activity and become familiar with their yes/no response modalities.
Find opportunities to comment on the mentee's choice (e.g., cool, I like that too., etc.).
Use the student's name when responding to comments/information shared
Offer choices using Partner-Assisted Scanning strategies
Use complete sentences, providing context when giving examples to share during an activity.
Clarify a mentee's response if it is not understood (e.g., Can you tell me again?; Can you give me a clear yes or no?).
If mentees do not answer, lose focus or start talking about something off topic, repeat the question.
Intersperse longer chunks of information with questions to engage mentees.
Adjust your speech rate to a slower setting while mentees become accustomed to your voice.Â
Use a salient signal with voice or gesture to refocus attention of all group members on mentor's next comment, direction or question.
Program quick phrases to maintain the momentum of the activity (i.e., phrases that help the student return to the topic).
Review and edit pre-programmed messages for grammar and clarity.
Quickfires
*Use of Quickfires is an optional strategy introduced during mentorship training.
Quickfires, as defined by Tobii Dynavox, are "Short, quick, multi-functional messages that can be used in any context and in any conversation."
Our mentors developed their own Quickfire words and phrases and pre-programmed them into their devices as an efficient means to maintain the momentum of the self-determination activities. Mentors refined their Quickfire messages as needed to suit the various activities and the age levels of the mentees.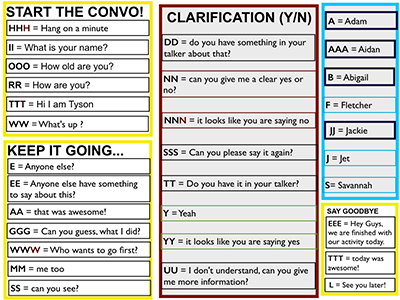 Some examples of Quickfires used during the program were the following:
Name(s) of student(s)
Hang on a minute.
I have something to say.
Here is some information about me.
Can you give me a clear yes or no?
It looks like you are saying no.
It looks like you are saying yes.
Do you have something in your talker about that?
Do you have it in your talker?
Can you give me more information?
What's new?
Can you see it?
Anything else?
Who wants to go first?
Can you please say it again?
Can you guess what I did?
Can we listen to … (name of person talking)?
That was awesome!
I don't understand.
What's up?
Yeah/Yeah me too.
What a great job?
What did you like/think about our activity today?
We are finished with our activity today.