Activity 7: Framing A Future
FAF is a tool that was developed to help guide the individual, the family and team in looking at the young adult's priorities in life and assist with the development of appropriate plans for transition.
Expanding self-knowledge: Students identify what's important to them and why.
Purpose
Mentees learn about the 7 Framing A Future categories – Community Membership; Control of Personal Health and Welfare; Pursuit of Lifelong Learning; Developing Talents and Interests; Creating Healthy Relationships; Self-Reliance; and Developing a Personal Sense of Spirituality.
Mentees begin to work one-on-one with their mentors to complete the Framing A Future survey.
Mentees respond to statements within each category to determine what is important to them.
Mentees respond to statements within each category to determine how satisfied they are with what they deemed to be important.
Mentees review all the information gathered from the Framing A Future activity and work with the Self-Determination Program team to determine if there is something within that information they would like to work towards, change or improve – For example:
One Framing A Future goal identified by student: "I would like to help make plans for going places and doing things."
Mentees begin to learn about goals and the concept of working towards something they want to change or achieve.
Materials
Mentor Preparation
Mentors:
review the Framing A Future assignment
review the Framing A Future categories
prepare one question from each category to ask their mentee
Activity
Self-Determination Program staff introduce the modified FAF tool and explain to students that they will answer questions and respond to statements to help identify things that are personally important to them. For example:
"Today, you will be working with your mentor to answer different questions about things that are important to you in different areas of your life."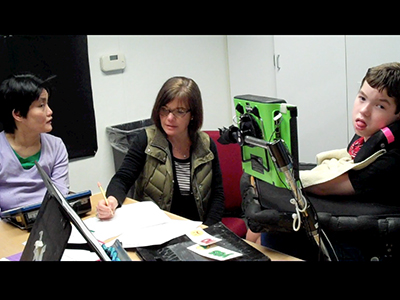 The teacher records the student responses from the Framing a Future Survey.
Mentees move to a quiet area to work with their mentor one-on-one. A description of a category is provided as the mentees work through their survey. Mentors provide a personal example to help the mentee make a personal connection to understand that particular category. Mentees then answer questions and respond to statements presented to them by their mentor and/or Self-Determination Program staff.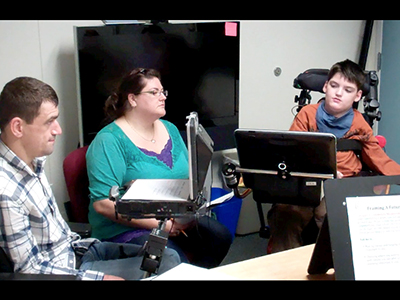 The mentor asks the students questions from the survey.
Adaptations
Classroom Suite version to access and complete survey independently
PDF version to dictate responses to a partner
PowerPoint electronic format for students who can read/listen and input information independently using keyboard, alternate input (e.g., AccessIt)